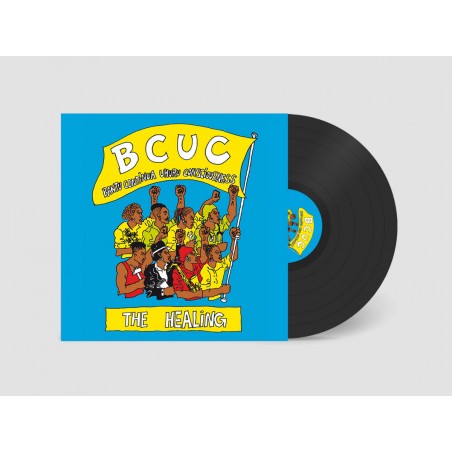  
BCUC - The Healing
Tax included
Livraison sous 2-3 jours

Livraison offerte dès 80€
Paiement sécurisé

Satisfait ou remboursé
Venu de Soweto, ce tsunami de sons et de soul a soufflé tous ceux qui l'ont pris en pleine tête depuis 2016. En moins de trois ans, Bantu Continua Uhuru Consciousness (BCUC) – une polyglotte dénomination qui permet d'imaginer les enjeux d'un groupe qui avance comme un seul homme, tout d'un bloc – s'est imposé sur les scènes françaises, puis européennes, et désormais outre-Atlantique, avec une formule qui fait mentir tous les augures du monde du disque. Pour réussir, il faudrait enregistrer des albums calibrés au format chanson. Eux font rigoureusement tout l'inverse, produisant des galettes en forme d'ovnis où se déploient de longs développements sans soucis du timing. Ici, seul compte la musique, ses flux et reflux, et qu'importe si ce plaisir en passe par des kilomètres de sons, chargée de tonnes de bonnes vibrations.
C'est au prix de ce sensationnel excès de sens, sans interdit, que l'auditeur parviendra à approcher l'état de transe, telle que figurée lors de performances scéniques qui relèvent de l'expérience jubilatoire et expiatoire.
Data sheet
Titre

The Healing

Barcode

3341342603144

Interprète

BCUC

Format

LP

Label

Buda Musique

Nombre de disque(s)

1

Date de sortie

10/05/2019

Genre musical

Africa

PROD / DISTRIB

Distribution Non Exclu MLP
No customer reviews for the moment.
16 other products in the same category: